From April 23-24, 2022, I'll be challenging myself in a 24-hour 100 mile endurance race, The Shenandoah Epic. Join me as a I hike, paddle and bike through the Shenandoah Forest and cover over 14,000 feet of elevation in the process using nothing but my own effort to get me to the finish line.
I'm "racing" to raise awareness of the great work that Conservation Nation is doing to preserve species and to create and educate the next generation of diverse conservationists. You can use this page to follow me on my journey as I will be posting updates leading up to, during, and after the race.
Thank you so much for your support!

April 28, 2022: A Rockin' Good Start
April 26, 2022: A Look At The Race
Earlier this year, I challenged our associates to grow by getting out of their comfort zone. This weekend, I took my own advice and completed the Shenandoah Epic, a 24-hour 100 mile endurance race to raise awareness for conservation initiatives. It was a challenging experience, but also very rewarding and for a great cause. I hope you enjoy the photos below that I took along my journey.
April 18, 2022: Following The Race
As promised here's the link to the live tracking page:

https://live.enabledtracking.com/epic2022/

I'll be racing with number 121 this year. If you click on the eye on the right side it will continue to follow my progress.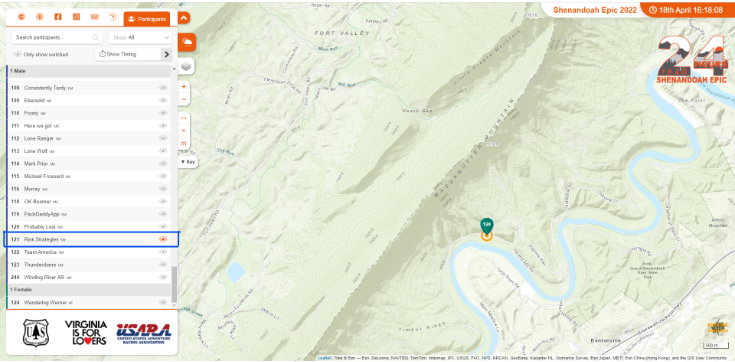 I don't mind people tracking my progress. Just don't tell me if there's an over/under!
April 15, 2022: A Look At My Training Regime
April 14, 2022: Final Training Preparation
I didn't get to Shenandoah last week but I would say training is going reasonably well. I always wish I had dialed up the intensity 10 weeks earlier than I do and this year is no exception. I'm doing a night ride tonight – 10 miles with a full pack to make sure that I'm ready on race day.

No more training after Sunday, just light exercise and extra sleep to maximize my odds of success. I feel a bit more prepared than last year, not as prepared as I would like. We'll see!
April 2, 2022: Watching The Race
Some folks have asked about the best way to watch the race. Honestly, it's best to do that from the comfort of your own home. We'll be pretty much in the woods and off the grid for everything but the last minute or two.

The good news is that I'll have a GPS tracker attached to my backpack the entire time. I'm not sure whether that's there to track my progress or make sure that someone can find me. Either way, I'll provide an update the night before the race with a link to the tracker for those that want to follow my progress!
If you would like to support Conservation Nation, you can make a donation through my fundraising page. The process is easy, fast, and secure. Donations are appreciated, but not at all expected.
Thank you so much for the support!
John